Blockplay | Sandplay | Waterplay | Messyplay.
Kids all LEARN when they PLAY.
The Kidantics twist? Open-ended play. There's simply no wrong way to use our toys, puzzles, and play equipment!
Welcome to Kidantics – Toys With A Twist! We've been building inspirational wooden toys for primary schools, elementary schools, playcentres, kindergartens, preschools, and daycare centres for more than 20 years.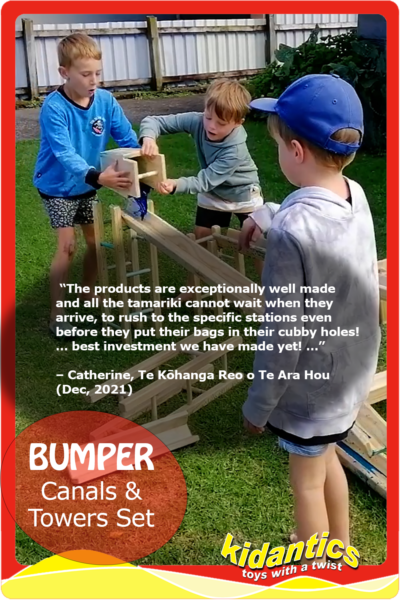 Any way the kids choose to play is the RIGHT way. Our toys and puzzles are all designed to be used in multiple ways – there is simply no wrong way to go about it. And while the little ones play … they experiment, learn, solve problems, grow in confidence, and make new friends.
We invite you to do a little exploring of your own.
Check out our PRODUCTS page to see the range of toys we make. We feature toys for waterplay, sandplay, and blockplay amongst others. If you like the look of something (or many things), you can use the shopping cart to place an order or you can click on any image to find out all about that toy.
Browse some of the FEEDBACK we've received. We're proud to say WE TEST ALL OUR PRODUCTS ON CHILDREN. The results speak for themselves.
And if you have questions, comments, or suggestions you can CONTACT US directly. We're always interested to know what you're thinking.
We're happy to provide you with a quote if you're looking to the future and if you have specific needs
If you're feeling a little social you can also visit us on Facebook, Pinterest and Youtube.
Thanks for visiting Kidantics, we hope you enjoy our toys, puzzles, and outdoor equipment as much as we enjoy making them.